Visit Whittier Birthplace
Admission
Adults: $5.00
Seniors (62 and over): $3.00
Students (18 and over): $3.00
Students (under 18): $2.00
Children (12 and under): Free
Whittier Club Members: Free
Hours
Friday: 11 a.m.-4 p.m.
Saturday: 10 a.m-4 p.m.
Sunday: 1-4 p.m.
Monday-Thursday: Closed

The Birthplace is open from the fourth Wednesday in April through the last Sunday in October. With the exception of special events, the Birthplace is closed during the winter.
Additional tours may be scheduled by prior arrangement. Please provide two weeks notice. Groups larger than five are asked to make a reservation. The property is closed on all major holidays and during winter months, with the exception of special events.
The Whittier Trail
A trail guide available at the Birthplace and the Haverhill Public Library features a driving tour of Haverhill and other sites associated with Whittier and his poems.
Whittier Home

You may also be interested in visiting Whittier's Amesbury Home.
The Freeman Memorial Trail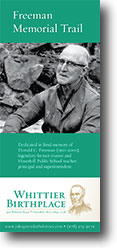 Free Download
A walking tour takes participants on a journey to 13 stations located on the Birthplace property. Each station is a landmark cited in Whittier's poetry or his many biographies. A brochure providing quotations and descriptions is available at the Birthplace or by downloading at left.