A monument to Haverhill's great poet and abolitionist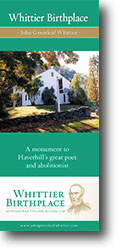 (Download Brochure) The John Greenleaf Whittier Birthplace is substantially the same as when the poet lived there. Best known for his poetry—in particular his poem, Snow-Bound—Whittier was also a prime mover in the abolitionist movement.
Hours
Friday: 11 a.m. – 4 p.m.
Saturday: 10 a.m. – 4 p.m.
Sunday: 1 – 4 p.m.
Monday through Thursday: Closed
The Birthplace is open from the fourth Friday in April through the last Sunday in October. With the exception of special events, the Birthplace is closed during the winter.
Buy Tickets